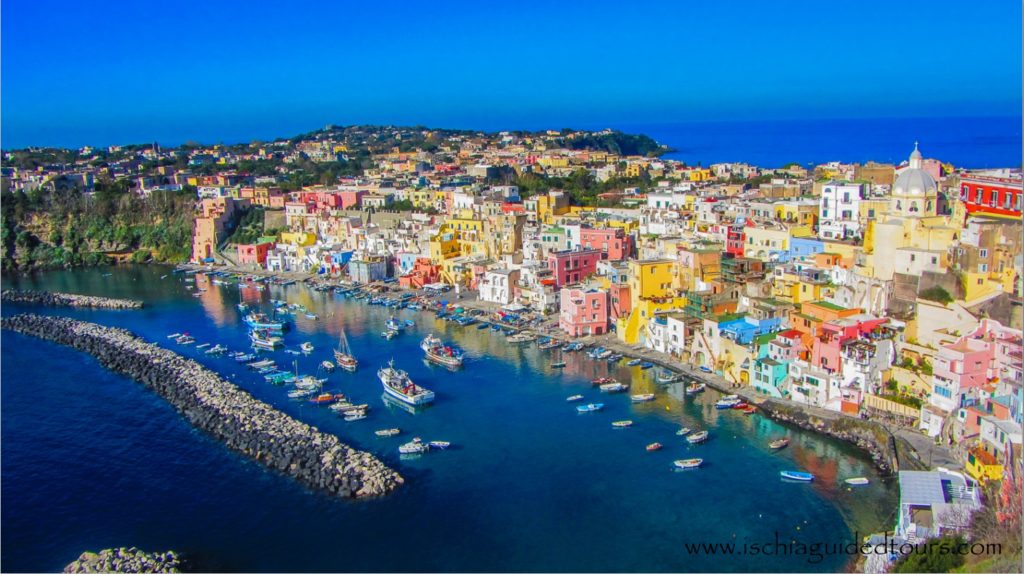 On this tour you explore the heart of the hystorical center of the island of Procida on foot, among the ancient typical fishermen's houses, the "casali",  the first settlement of Terra Murata, and the quaint fishing village of Marina di Corricella.
Walking tour of Procida
We start the walk from Marina Grande, the main port of the island of Procida and continue along Via Roma, to stop at the iconic church of Santa Maria della Pietà for pictures. We then walk up the ancient street called "Canale", with traditonal artisan shops and ancient palaces with inner courtyards, called "Casali".
We reach the ancient hamlet of Terra murata, the highest point of the island of Procida from where you can enjoy a breathtaking view to  Mount Vesuvius, Capri and Sorrento. We visit the oldest church of the island San Michele Arcangelo, with its interesting paintings and statues and then visit the picturesque neighborhood "Casale Vascello" with the typical Procida architecture. Our walk continues in the fishing village of Marina di Corricella around its colorful houses and fishing boats, set of many famous films such as "The postman", "The talented Mr Ripley" and "Arturo's island". Here we have time to stop for lunch or for a quick snack in a typical restaurant (not included in the rate) before returning back to Marina Grande port on foot.
Duration: approx. 2  and a half hours
The itinerary of the tours may change due to unforseen factors such as weather or traffic. The price of the tours doesn't include lunch, drinks or entrance fees where applicable. Official tour guides are the only people authorized by the Italian government who are allowed to run tours legally after passing the regional exam and are then licensed as professional tour guides.
For further information or details contact info@ischiaguidedtours.com